MKII
Vehicle Recovery Device
You've been driving off-road, somewhere isolated and remote. You're alone, and now you're stuck. You're bogged hard and help is miles away. It's all up to you. What now?
Brad McCarthy founded MAXTRAX in 2001 after hearing one too many stories of this potentially life threatening situation. When we first started talking to Brad, he was looking for a simpler way for one person to extract their bogged vehicle. From that partnership was born the MAXTRAX MkI 4×4 recovery board. This innovative product created an entirely new way of self-extracting your bogged vehicle, and a new market category as well.
By 2009, Brad and the market-leading MkI product had led MAXTRAX to a national reputation for quality design, engineering, manufacture and service.  The MAXTRAX product range commanded a premium price, and serious users were more than happy to pay. However copycat competitors were starting to enter the market MAXTRAX had created, pushing lower quality solutions at cheaper prices.
In the best design projects, there's no "us" and "them" – no divisions between consultant, client and the client's customer. It's about forming one design team. We were fortunate to have always had this relationship with Brad. The trust there allowed us to explore some tough questions together. Have we created a market for others to take? How do we continue to out-innovate these new low-cost competitors? How could we design a complete solution and experience, not just a board? We started this journey asking how we could save lives in challenging environments. How could we design a solution for the most extreme environments? Who might be the most extreme users we could design for? What about a special forces unit?
The Challenge
Design a next generation recovery board product to help MAXTRAX to protect and extend its market leadership position. Defend Australian market share from low cost competitors, and build an offering to expand into international markets.
The Journey
In order to help MAXTRAX extend its market leadership position, we focussed the development of the MkII product range on the needs of extreme users and extreme environments. We knew if it met the needs of extreme users it would surprise and delight recreational four wheel drivers.
By strengthening MAXTRAX'S positioning at the top end of the market, we would ensure MAXTRAX remained the first choice aspirational brand, leaving the low-end competitors to continue to compete amongst themselves on cost.
To truly understand the needs of extreme users, we built R&D relationships with the best in class – the Australian Defence Force and Australia's Team Isuzu Dakar racing team. You can't get much more serious than these guys. These relationships were invaluable not only for the critical insights we developed together, but also for the serious credibility it built for MAXTRAX in these markets.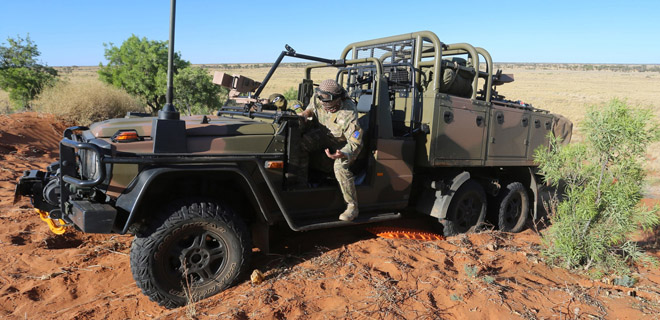 For both the Army and Dakar users, speed was critical. When you're bogged in enemy territory, seconds count. Not just speed in terms of how quickly the board works, but also for how quickly you can find the board, deploy it, use it, put it away, clean up and get going again. This was all about interaction between people and object in pressure situations, and we got numerous insights into how to improve.
Sometimes in design it's about supporting the surprising workarounds your customers have adopted to extend a product into areas you hadn't anticipated. One surprising revelation was the Army was rigging together several MAXTRAX boards together into long strips. They often travel in convoys, so when they got to troublesome terrain they didn't want boards – they wanted temporary roads. This insight led to the development of linking straps and sand peg accessories.
We combined these insights with the years of customer feedback MAXTRAX had been collecting. We quickly realised the MkI product was fairly one dimensional – it was all about functionally getting a vehicle out when it is stuck. But what about before and after that? What about afterwards when your hands are covered in mud? What about storage? What about using the board to dig enough dirt out of the way so you can deploy it in the right spot?
To respond to these needs, we needed to design much more than a board. So we designed the MkII to be a complete vehicle recovery system that considers all of a user's needs throughout the product lifecycle. It includes a roof rack storage pod, vehicle mounting kits, multi-board linkage straps, accessory pegs, all stored in a package that holds 11 litres of water in case of emergency (or maybe you just want to wash your hands).
How stuff feels matters. Ergonomics matter. Especially when the pressure is on. We significantly improved the ergonomics of the board so it just plain feels better to use. We wanted to make sure it felt right and worked effectively to a casual user, not just to the rough hands of a tradesman or military officer. But you can bet those guys appreciated the difference too. We've greatly improved the ease of labour intensive tasks like using the board as a shovel and then pulling it back out of the mud.

The Outcome
The MkII product range was launched internationally in 2010 at SEMA, the largest Automotive Accessory show in the US. Since this incredibly successful event, great product and good business strategy has seen MAXTRAX'S grow internationally with global distribution partners. Significant military contracts have been filled and in 2013 the majority of professional Dakar Race teams use MAXTRAX as their preferred extraction system.
MAXTRAX remains the undisputed market leader.
We're not done yet.